You probably want a smartwatch more than you need one. However, they track your activity, open up a new world of apps and stop you needing to dig phone out of pocket every time you receive a message. And with Apple now on its fourth iteration of the Apple Watch, and Google continuing to fine-tune its Wear OS, they're getting better all the time.
WIRED Recommends is your definitive guide to the best technology.
WIRED Recommends: Apple Watch Series 4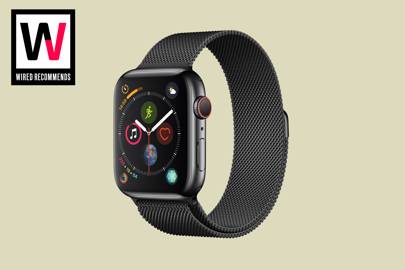 Pros: Superb Watch calls; better specs; improved design
Cons: No native sleep detection; auto-detection for walking slow to activate
With a bigger screen, revamped design, better performance, improved sensors, fall detection and ECG capability, the Series 4 represents the biggest overhaul the Apple Watch has seen since the first iteration in 2015. And it's been done exceedingly well.
Sizes have been bumped up from 38mm and 42mm to 40mm and 44mm (though the 4 is a shade thinner), and WIRED would still go for the smaller option – especially as now the OLED screen takes up more real estate and has dynamic refresh rates that switch from 60Hz to 30Hz when necessary. This means the battery is still as good as it always was on the Apple Watch.