At first, the industry called them self-driving cars until people got scared. No one wanted to imagine roads filled with unmanned cars. We just weren't ready. Now, the automotive industry is calling them autonomous vehicles and not even that – they are called "semi-autonomous," a reminder that this isn't a hands-off driving revolution—at least not yet. Based on these shifts in language, there's absolutely no doubt no that self-driving vehicles are not going to replace the need for a human being behind the wheel, at least not for many years to come.
Semi-autonomous vehicles and their manufacturers have, for the most part, named their autonomous systems in a way to emphasize that the new technology is only there to assist, not commandeer. What makes them "self-driving" is these vehicles have the capability of giving you another set of eyes –or several sets of eyes–with cameras that can see off to the side, to the back and to the front, and where blind spots often cause accidents. Some even have cameras in the rearview mirrors.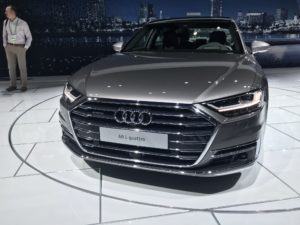 Backup cameras are now mandatory on all new cars so 2018's new fleet of semi-autonomous vehicles is just going a step or two further. Sensors are improving, even enough to steer without manual prompts, but we're still not ready for hands-off driving by any means.