As home lots continue to shrink, one of the biggest decisions is what to plant in the landscape. When space is at a premium, every detail counts, which is why proper plant selection is so important. Choosing smaller cultivars and dwarf forms of reliable favorites that won't outgrow the site will help to keep pruning and editing to a minimum. Here are a few suggestions to get you started.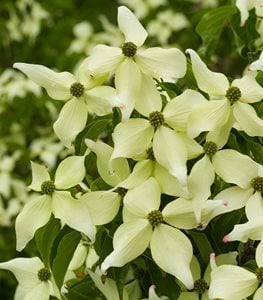 Cornus kousa (Kousa dogwood)
This Asian native tree produces creamy white or pink flowers from late spring to early summer, followed by berry-like edible fruits that are attractive through autumn. The glossy green leaves turn brilliant red and purple in fall, while the graceful vase-shaped structure and peeling bronze bark offer winter appeal. Hardy in USDA Zones 5-8, this reliable tree performs best in full sun to partial shade, and is virtually carefree, though regular summer watering is necessary in hotter climates. The average mature size is 15-30 feet high and wide, though dwarf forms such as 'Little Poncho' and 'Dwarf Pink' reach just 8-10 feet tall and wide.